Hey Gal's and
HAPPY VALENTINE'S DAY
I want it to Blog about Valentine's Day
. I hope you all you will have a great Valentine's Day. My boyfriend isn't here for Valentine's Day. It's said but it is ok, becaue Valentine's Day is a Day when you tell your Lover, Boyfriend/Girlfriend, Friend and Husband/Wife how much you love him/her

. I made a Video for my Boyfriend Yu san. I wish you where here on V-day. Love you Yu san

!
H

appy Valentine, my love!
All my love is yours.
Praised be love that brings us home,
Pilgrims to these shores.
Yearnings here find harborage;
Vanities, sly smiles.
All that righteous anger rends,
Love here reconciles.
Even in the darkness where
No bitterness finds rest,
Thoughts of you are like a dawn
Intent on happiness.
Nor would I have so light a heart
Except that I am blessed!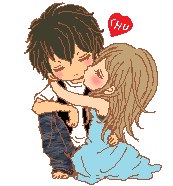 HAPPY VALENTINE'S DAY YU SAN
For love has no parameters
And does not end with time,
But is the gift of paradise,
A pinch of the sublime.
So let us take this holiday
To resubmit our love
To those within that know no sin
And with the angels move.
xoxo emimarie~