Hey Gal's

, so my post for today is about my makeup plus my makeup look for today. I promised a friend I will post about my makeup and things I use

, so let's start then. Ok the first Picture you see is my eye makeup. You can tell that I used 4 fake eyelashes. Two for the top and two for the bottom. Gyaru makeup is very easy when you get it. The big trick with the Gyaru makeup is the fake eyelashes and eyebrows

, some gal's say: the eyebrows are not that important but honestly, you need to get everything right and if you messed up something, just fix it. I always take so much time if I put my makeup on, because I want to get better with the gal style
.
友達に化粧のことを書くと約束したので、今日の化粧を紹介します。始めの写真は目の化粧です。見ての通り、つけまつげを上下2づつつけます。私はギャルの化粧で一番、付けまつげとまゆげが大事だと思います。いろいろな意見がありますが、とにかく試してみて、結果失敗してもまたやり直せばいいことなので、私はいろいろ試して見ます。化粧に時間を多少かけますが、これがギャルへの第一ステップだと思います。
1. Use four lashes or more if you feel like it.
4つ以上つけてもいい
2. Eyeliner is your best friend .
アイラインは大切
3. Color lenses or if you don't have them, it's ok.
4. Leave some space under your eye's for the big Barbiedoll affect.
目の下に隙間をあける。

That's how you look in the end. Do you Gal's love this look and me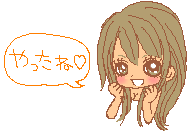 My Makeup collection
化粧コレクション
I have
14
brushes but only used
5
of them.
I have
11
eyeshodos,
6
Masakra's and
2
eyeliner.
私は、アイシャドウを11こ、マスカラを6こと、2つアイライナーをもっています
Well you Gal's can see what I use for my skin.
I love lip-gloss, I have over
16
Lipglosses and most of it are the same color.
Yea, my lashes! I love my eyelashes collection.
I don't have a lot but soon I will get some more!